Lindsay Holdcroft
Position
Goaltender
Catches
Left
Height
Weight
5 ft 4 in (1.63 m)

ECAC Team
Dartmouth
Born

Pittsburgh, PA
May 14, 1992,
Pro Career
2010 – present
Lindsay Holcroft (born May 14, 1992)[1] is an ice hockey goaltender for the Dartmouth Big Green.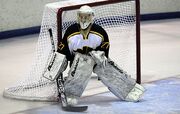 Holdcroft started playing she was 8 for the North Pittsburgh Wildcats. The team had no goaltender, and she volunteered. She would participate with the Wildcats through bantams. Stephen Walkom, vice president and director of officiating for the National Hockey League coached Holdcroft for a few years. [2]

She competed in three sports while at North Allegheny Senior High School. She played two years of varsity boys' hockey and was a starter. In her senior year, she posted a sub-2.00 goals against average. Her father, Robert, was an assistant coach with North Allegheny. While at North Allegheny, she earned the Pittsburgh Penguins' High School Hockey Player of the Month in January of 2009. With the honour, she became the first female to receive the honor since the inception of the award.[3] Holdcroft also participated in the Pennsylvania Interscholastic Hockey League All-Star Game.

In addition, she was a five-time Player of the Game in her two seasons with the Tigers and she was named High School Athlete of the Week by WTAE-TV in Pittsburgh. [4] In January 2009, she was part of the North Allegheny squad that took part in the outdoor PIHL Charity Series against Pine-Richland.[5] She also took goaltending lessons from Shane Clifford, former goalie coach with the Pittsburgh Penguins.[6]
In addition to high school, she was an assistant captain for the Under-19 Girls AAA team known simply as Team Pittsburgh. The team was in the Tier I Elite MidWest League. With Team Pittsburgh, she was a three-time Mid-Am District Champion. She accomplished this at the Under 14 and Under 16 levels. Her father, Robert, was head coach of the team. During the 2008-09 season, Holdcroft was part of a Team Pittsburgh squad that qualified for Nationals and lost in the semi-final. Holdcroft is the first player from Team Pittsburgh to play NCAA Division I ice hockey.[7]
In her first season for Dartmouth, Holdcroft participated in 27 of 34 games. Statistically, Holdcroft registered 578 saves, a save percentage of .902, a 2.34 goals against average, along with a win loss record of 18-9-0 and four shutouts, respectively. The 578 shots that she stopped were the second-most saves by a Dartmouth freshman. In addition, Holdcroft was recognized as an honorable mention All-Ivy.[8]
January 2, 2011: In her eighth career start, freshman goaltender Lindsay Holdcroft recorded her first career shutout. It was a 5-0 triumph over the University of Connecticut. She accumulated 16 saves, and had at least five saves in every period. Her season record is now 5-3-0.[9]
For the week beginning January 14, 2011, Holdcroft won three consecutive games. During the streak, she had a goals against average of 0.67, a save percentage of .947 and made a total of 65 saves. She played 180 minutes and registered a shutout versus RPI.
January 28-29: Lindsay Holdcroft made 51 saves and allowed only one goal and recorded a shutout in two victories for the Big Green. The Big Green have enjoyed five straight wins as the squad moved into third in the ECAC. In the five victories, Holdcroft has only allowed three goals. In her rookie season, she has accumulated three shutouts.
On March 12, 2011, Holdcroft had 19 saves as the Big Red defeated Dartmouth by a 7-1 mark in the NCAA Regional playoffs. [10]
Holdcroft participated in National Select Camps for 14 and 15 year olds.
| | | | | | | |
| --- | --- | --- | --- | --- | --- | --- |
| Year | GP | Wins | Losses | Ties | GA | GAA |
| | | | | | | |
| | | | | | | |
2006 North Outstanding Young Citizens Award[11]
Female Athlete of the Year Award at North Allegheny
Two-time May Award recipient as Most Valuable Player at North Allegheny
PIHL (Pennsylvania Interscholastic Hockey League) AAA All-Star Team selection as junior [12]
ECAC MLX Skates Rookie of the Week (Week of January 4, 2011)
ECAC MLX Skates Rookie of the Week (Week of January 25, 2011)
Dartmouth Female Athlete of the Week (Week of January 31, 2011) [13]
ECAC Defensive Player of the Week (Week of February 15, 2011)[14]
Her father, Robert (Bob) Holcroft played Division I golf and club hockey at Penn State University from 1977-81. Her uncle, Tim Holdcroft, also played club hockey for Penn State from 1982-86. Holdcroft is a member of the National Honor Society and was a singer in the mixed concert choir. In addition to hockey, she ran cross country and track while at North Allegheny and was a sectional champion in cross country.
Community content is available under
CC-BY-SA
unless otherwise noted.