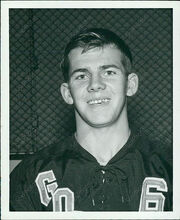 Leonard Paul "Len" Lilyholm (born April 1, 1941) is an American retired professional ice hockey player who played 77 regular season in the World Hockey Association (WHA) for the Minnesota Fighting Saints in 1972-73. He scored 8 goals and 13 assists in the WHA.
Lilyholm was born in Minneapolis, Minnesota. As an amateur, he frequently played for the United States national team. Lilyholm was a member of Team USA at the 1968 Winter Olympics and also the 1966, 1967 and 1970 (where he was elected to the "Pool B" qualifying tournament all-star team), 1971 and 1974 Ice Hockey World Championships.
Outside hockey, Len Lilyholm was an architect and builder who actually participated in the design of the St. Paul Civic Center, the Saints' new home arena which was completed in January 1973.
External links
[
]
The Complete Historical and Statistical Reference to the World Hockey Association by Scott Surgent, Xaler Press, ISBN 0-9644774-4-0