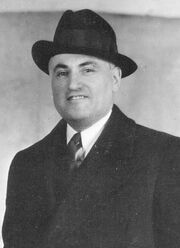 Joseph Viatuer "Léo" Dandurand (July 9, 1889 – June 26, 1964), was a sportsman and businessman. He was the owner and coach of the Montreal Canadiens in the National Hockey League (NHL). He also was an owner of race tracks and of the Montreal Alouettes football team in the league that evolved into the Canadian Football League.
Personal life
Dandurand was born in Bourbonnais, Illinois. He moved to Canada with his family when he was 16 years old. He died of a heart attack on June 26, 1964 at age 75.
Ice hockey and the Montreal Canadiens
He was a referee in the National Hockey Association and was involved with the St. Jacques minor hockey team in the Montreal area. He was an ice hockey representative at the founding of the Canadian Amateur Hockey Association in 1914. He is considered the inventor of the rule in ice hockey limiting the number of concurrent penalties to two.
On November 2, 1921, Dandurand and his partners, Joseph Cattarinich and Louis Letourneau, purchased the Montreal Canadiens hockey club from the widow of George Kennedy for $11,000. Under Dandurand's ownership, the Canadiens won the Stanley Cup in 1924, 1930, and 1931. Dandurand coached the team until 1926 and was the coach for the 1934–35 season. Dandurand was also the team's general manager from 1921 until 1935. Letourneau sold his stake in the club in 1930, and Dandurand and Cattarinich continued as owners until selling the team in 1935 for $165,000.
Leo Dandurand was inducted into the Hockey Hall of Fame in 1963 as a builder.