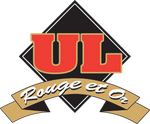 "Rouge et Or" (Red & Gold) is the name of the sports teams of the Universite de Laval (Laval University), located in Quebec City, Quebec. The Rouge et Or are members of the Reseau du sport etudiant du Quebec (RSEQ) and Canadian Interuniversity Sport (CIS). The Rouge et Or folded their hockey program after the 1982-83 season. The RSEQ does not operate a hockey league, and has not done since 1987.
The Rouge et Or are not to be confused with the Montreal Campus of Laval University, now known as the University of Montreal, whose team dates back to at least 1909-10.
The Rouge et Or operated in the Canadian Intercollegiate Athletic Union (CIAU Central) and the renamed Quebec-Ontario Athletic Association (QOAA) from 1950-51 to 1970-71. After four years not operating, in 1975-76 they joined the Quebec Universities Athletic Association (QUAA) once the Ontario and Quebec conferences had been re-organized along provincial lines. They remained there until the end of the 1982-83 season.
Quebec City also hosted the original 1967 Canada Winter Games Hockey Tournament and the Rouge et Or represented the Province of Quebec. They went 2-2-1 and finished 4th in a pool of 6 teams.
Click on the links in the "Year/Comp." column to go to the page for that season.
CIAU/QOAA 1950-51 to 1970-71

[

edit

|

edit source

]
Notes:
1945-46 was the only season in which the Senior Intercollegiate League operated.
1950-51 started in a one division format.
Changed name from CIAU Central to QOAA somewhere between 1953 and 1955.
1961-62 started a two division format: East and West.
1964-65 returned to one division format.
1968-69 returned to the two division format.
QUAA years with ties 1971-72 to 1982-83

[

edit

|

edit source

]
Queen's Cup: QOAA: 1954, 1960, 1961
Formerly Participating Universities - Quebec

[

edit

|

edit source

]
Community content is available under
CC-BY-SA
unless otherwise noted.