Laura McIntosh
Position
Forward
Shoots
Left
Height
Weight
5 ft 5 in (1.65 m)
152 lb (69 kg)
WCHA Team
Ohio State
Born

Kitchener, Ontario
January 21, 1990,
Pro Career
2008 – present
Laura McIntosh is a women's ice hockey player from Ontario that is the all-time leading scorer for the Ohio State Buckeyes women's ice hockey program. At the end of the 09-10 season, Laura McIntosh ranked 11th all-time in points with 84 while playing in 73 games. Her 63 career assists already stand sixth in the category and she is only 16 assists away from setting the program record for assists in Western Collegiate Hockey Association games. [1] During the 2012 CWHL Draft, she was drafted by the Brampton Thunder.
She won the gold medal at the Canadian U-18 National Hockey tournament in November 2007. In addition to hockey, she played third base for the 2009 Team Ontario softball team that won silver at the Canada Games.
While attending Bluevale Collegiate Institute, she earned a total of 10 team MVP awards at Bluevale. In addition, she played for the Mississauga Jr. Chiefs for two seasons. During the 2006-07 season with the Jr. Chiefs, she received the team's MVP award. For the season, she led the league in scoring with 54 points with 21 goals and 33 assists in 32 games. McIntosh helped the Chiefs to back-to-back bronze medals in the Provincial Women's Hockey League (2007-08). She helped Team Ontario Red win the gold medal in the U-18 National Hockey Tournament. This gold medal followed her gold medal with Team Ontario at the Canada Winter Games in March 2007. Before her two seasons with Mississauga, she was a member of the Waterloo AAA boys team and Brampton Canadettes.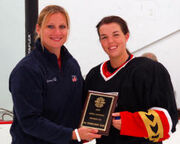 She was a member of the Canadian U-18 Team that won the summer series against the U-18 Team USA squad in August 2007. McIntosh was part of the silver medal winning team at the inaugural IIHF World Women's U-18 Championships in January 2008. From August 10-19, 2008, she was invited to participate in Hockey Canada's Under-22 Women's Summer Selection Camp in Toronto. Her most recent involvement with Hockey Canada was at the Canadian National Women's Program Strength and Conditioning Camp, May 25-30, 2010 in Calgary.
McIntosh entered her junior year sixth in career assists (63) and 11th in career points (84). [2] In September 2009, she played with the WCHA All-Star Team against the U.S. Women's National Team in St. Paul, Minn.
As a freshman, she led the Buckeyes in points with 39 and assists with 28. McIntosh never had more than one penalty called against her in a game. Her 39 points rank third all-time in the Buckeye records for freshman scoring, while her 28 assists are an OSU rookie record. In the WCHA, she ranked fifth in rookie scoring. In the NCAA, she ranked seventh in rookie scoring with 1.08 points per game. Thirty-four of her points (10g, 24a) came against WCHA opponents, which tied for eighth in the league. From November 29 to January 10, she had a seven-game point streak. On October 4, she recorded her first point by scoring the game winning goal in a 3-2 triumph over the Providence Friars. On October 10, the Buckeyes had their home opener, and McIntosh had two assists vs. Wisconsin. In a sweep of the Bemidji State Beavers, she assisted on three of five goals (Oct. 24-25). McIntosh had a point in 10 of 11 games between Nov. 29-Jan. 24. On February 20, McIntosh recorded her first career hat trick with three goals in 6-5 loss to Minnesota State. Her season finished by assisting on a Buckeye goal in a 4-1 loss to Wisconsin on February 28.
McIntosh played in all 37 games and led the team with 35 assists. It was the second-highest total in a season by a Buckeye. The 35 assists also led the entire WCHA. Her 45 points ranked second on the team in pointsShe had 11 multiple-point games and eight contests with multiple assists . On the power play, McIntosh collected 18 points, including 16 assists, for the second-most power play points on the Buckeyes . McIntosh carried an eight-game point streak into the 2010-11 season . In the NCAA, she ranked fifth in assists per game (0.95) and 19th in points per game (1.22). In WCHA conference games, her 37 points tied for third. In the first five games of the season, McIntosh had four assists. She factored into all three goals in 5-3 loss at Wisconsin on October 24. On October 30-31, the Buckeyes swept Minnesota State and McIntosh had a five-point series (1 goal, 4 assists).
Laura McIntosh was recognized as WCHA Offensive player of the week for October 19, 2011. She had a record-breaking weekend in the Buckeyes' conference series sweep over St. Cloud State. During the series, she produced four scoring points, seven shots on goal and a +5 plus/minus rating. On October 14, she notched her first goal of the season to give the Buckeyes a 2-1 lead. Said goal would stand as the game-winner. In addition, she picked up an assist on a Hokey Langan goal. The assist made McIntosh Ohio State's all-time leader in career points against WCHA opponents. She surpassed Jana Harrigan's 110 league points set in 2006. The following day, she would accumulate another pair of points. She assisted on Ally Tarr's shorthanded, game-winning goal at 10:45 in the first. At 12:10 in the first period, she scored the Buckeyes third goal of the game.[3]
In a January 27, 2012 defeat of the North Dakota Fighting Sioux, Laura McIntosh finished the game with three assists as the Buckeyes prevailed by a 6-2 mark. McIntosh's three helpers moved her into a tie for the all-time lead on Ohio State's all-time career points list. Her 160 career points tied with former Buckeye Jana Harrigan.[4] On February 4, the Buckeyes defeated No. 9 Minnesota Duluth by a 4-3 mark at the AMSOIL Arena. McIntosh broke the Buckeyes all-time scoring record with three points, while teammate Natalie Spooner notched a hat trick for the Buckeyes. [5] Prior to the game, McIntosh was tied with Jana Harrigan with 160 career points. She now is the all-time leaders with 163 points. The hat trick by Spooner was her third of the season (and sixth in her career). Spooner stands third overall in career points with 156.
| | | | | | |
| --- | --- | --- | --- | --- | --- |
| Event | GP | G | A | Pts | PIM |
| 2007 Under 18 vs. USA | 3 | 0 | 2 | 2 | 0 |
| 2008 Pre-18 Worlds | 1 | 2 | 2 | 4 | 0 |
| 2008 Under 18 Worlds | 5 | 0 | 4 | 4 | 2 |
| | | | | | |
| --- | --- | --- | --- | --- | --- |
| Season | GP | G | A | Pts | PIM |
| 2008-09 | 36 | 11 | 28 | 39 | 22 |
| 2009-10 | 37 | 10 | 35 | 45 | 30 |
| 2010-11 | 18 | 8 | 23 | 31 | 8 |
Voted assistant captain of the Buckeyes for the 2010-11 season (along with Natalie Spooner and Kelly Wild)
The team's Most Valuable Freshman award (2008-09)
Ohio State Scholar-Athlete (2008-09)
WCHA Rookie of the Week honors (for the week of Nov. 1, 2008)
Sportsmanship award for the U-18 National Hockey Tournament (2008)
2008 Angela Ruggiero Chowder Cup Division AA All-Tournament team[6]
WCHA Offensive Player of the Week, (Week of October 18, 2011)[7]
Community content is available under
CC-BY-SA
unless otherwise noted.