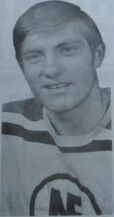 Lawrence William Sacharuk (Born - September 16, 1952 in Saskatoon, Saskatchewan) is a retired Canadian professional ice hockey defenceman who played 151 games in the National Hockey League for the New York Rangers and St. Louis Blues. He also played 15 games in the World Hockey Association with the Indianapolis Racers.
He played junior hockey for the Saskatoon Blades from 1967 to 1972, except for the 1969-70 season when he played for the Niagara Falls Flyers. The New York Rangers chose him 21st overall in the 1972 NHL Amateur Draft.
Turning pro in 1972-73, he split two seasons between the Rangers and the Providence Reds. In 1974 Sacharuk was traded to the St. Louis Blues for Bob MacMillan and then became a full-time regular for the Blues. He was re-accquired by the Rangers in 1975 as part of the trade for Greg Polis. He played for the Rangers and in the minors until 1978, when he signed with the Indianapolis Racers for a season.
After the Racers folded in 1978-79 Sacharuk played a season for the Birmingham Bulls of the Central Hockey League. He then went to Europe where he played for several seasons before retiring in 1983.
In the NHL he played in 151 games and scored 29 goals and 33 assists.
External links
[
]
Larry Sacharuk's career stats at The Internet Hockey Database