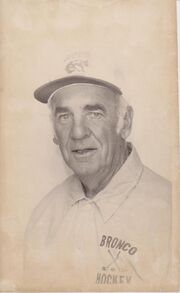 Larry Ross graduated from Morgan Park High School, Duluth MN in 1940, entered the Navy and played on the Navy Team in 1942-1943 and went on to the University of Minnesota where he was selected All-American in 1950-1951 and 1951-1952.
Ross, as coach of the International Falls Broncos, met with great success compiling a record of 566 wins, 169 losses and 21 ties, had taken the Broncos to 13 Minnesota State Tournaments, winning six Minnesota State Championships and during the 1964, 65, and 66 seasons, the Broncos went undefeated in 58 straight games.
Ross's players swelled the ranks at all levels of college hockey, with eight playing Olympic Hockey, twelve playing in the NHL, one player was a NHL Linesman, and many went on to coach, referee, or just continued to play.
While coaching at Internationals Falls, he started Ice Hockey at Rainy River Community College and coached both teams at the same time. He was a scout for the Hartford Whalers from 1980-84 and wrote a book titled "Hockey For Everyone".
Larry was honored by his peers when in 1983, was named Coach of the Year by the Minnesota Hockey Coaches Assoc., in 1985 was awarded the National High School Special Sports award by the National High School Athletic Coaches Assoc. and in 1988 was the recipient of the John Mariucci College Award for his contribution to College Hockey by the American Hockey Coaches Association.
After his retirement in 1985, Larry remained active in hockey, serving on the coaching staffs of various hockey schools in Minnesota.
Community content is available under
CC-BY-SA
unless otherwise noted.