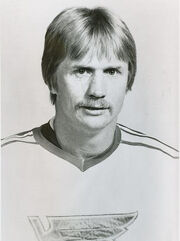 Larry Patey (born March 19, 1953 in Toronto, Ontario) is a former professional ice hockey centre who played twelve seasons in the National Hockey League between 1973–74 and 1984–85 with the California Golden Seals, St. Louis Blues, and New York Rangers.
He played Junior "B" hockey for the Dixie Beehives and then was committed to go to Boston University. However, he played junior for the Braintree Bruins in 1972-73 which got him drafted 130th overall by the California Seals in the 1973 NHL Amateur Draft. Patey decided to turn pro and forego university.
He turned pro with the Salt Lake Golden Eagles of the Western League and won the leading rookie award in 1973-74. The next season he became an offensive star, scoring 25 goals for the Seals.
Patey was traded to the St. Louis Blues in the middle of the 1975-76 season and was transformed to a defensive player. He became an acoomplished penalty killer and finished second in the Frank J. Selke Trophy race to Bob Gainey.
He was traded to the New York Rangers in 1984 but his career was almost over. Patey retired in 1985.
He played 717 career NHL games (over 600 of them with the Blues), scoring 153 goals and 316 points with 631 penalty minutes. In 1980–81, Patey scored eight shorthanded goals, which is a Blues team record.
Awards
References