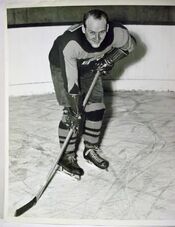 Larry Molyneaux (born July 9, 1912, date of death unknown) was a Canadian professional ice hockey defenceman who played 45 games in the National Hockey League for the New York Rangers. He was born in Sutton West, Ontario.
He played junior hockey with the Newmarket Redmen in 1931-32. In 1932-33 he turned pro with the Springfield Indians in the Canadian American Hockey League. Molyneaux played in that league until 1937-38 when he earned a two game trial with the New York Rangers.
In 1938-39 he played a full season with the Rangers, scoring one assist in 43 games. After that season he returned to the minors for two more years and then retired.
External links
[
]