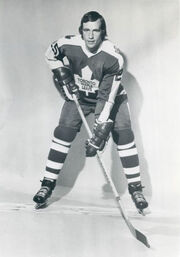 Lawrence Albert McIntyre (born July 13, 1949 in Moose Jaw, Saskatchewan) is a former ice hockey defenceman. He played 41 NHL games for the Toronto Maple Leafs.
He played junior hockey for the Moose Jaw Canucks from 1966 to 1969 and was picked 31st overall by the Toronto Maple Leafs in the 1969 NHL Amateur Draft.
McIntyre turned pro with the Tulsa Oilers in 1969-70 and played one game for the Leafs that year. His next NHL chance came in 1972-73 when he played in 40 Toronto games. He spent the rest of his career in the minor pros, retiring in 1976.
He scored 3 assists in his 41 NHL games.
In 1998-99 he coached the Tulsa Oilers.
External links
Larry McIntyre's career stats at The Internet Hockey Database