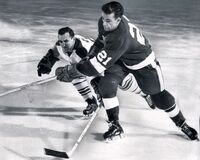 Lawrence Joseph Jeffrey (born October 12, 1940 in Goderich, Ontario) is a retired Canadian ice hockey forward.
Jeffrey began his National Hockey League career with the Detroit Red Wings in 1961. He also played for the Toronto Maple Leafs and New York Rangers. He won the Stanley Cup in 1967 with the Toronto Maple Leafs.
He played four years in junior with the Hamilton Red Wings. He suffered a severe charley horse that would affect his play for the rest of his career.
Jeffrey then turned pro with the Detroit Red Wings in 1961-62. He stuck with them for most of the following four seasons, missing some time for injuries.
He was traded to the Toronto Maple Leafs in the Marcel Pronovost deal in 1965. In 1967 he won the Stanley Cup.
Heffery was picked up by the Pittsburgh Penguins in the 1967 NHL Expansion Draft but was immediately traded to the New York Rangers. He played there for two seasons before being traded back to Detroit in June, 1969.
An automobile accident ended his career in October, 1969.
In 368 NHL games, Jeffery scored 39 goals and 62 assists. He also scored 4 goals and 10 assists in 38 playoff games.
Community content is available under
CC-BY-SA
unless otherwise noted.