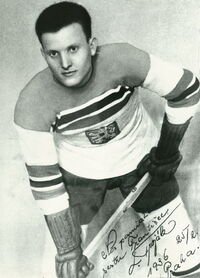 Ladislav Troják (b. June 15, 1914 in Košice, Austria-Hungary (Slovakia) - November 8, 1948) was the first Slovak ice hockey player in the national team of Czechoslovakia and also the first Slovak hockey player with a title of World Champion (1947). Troják wore the number 9.
He died on November 8, 1948 during the aircraft accident over the English Channel.
Playing career
He was a player in the ice hockey teams of ČsŠK Košice (until 1934) and LTC Prague (1934–1948). He scored 37-times in 75 games for the national team of Czechoslovakia. Ladislav Troják is a member of the Slovak Hockey Hall of Fame since November 30, 2002.
The new home arena of the ice hockey team of HC Košice - The Steel Arena - Košice's Ladislav Troják Stadium (opened on February 24, 2006) is named in honour of Ladislav Troják.