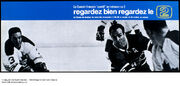 La Soirée du hockey (literally translated to Hockey Night) was a popular ice hockey show in Quebec. It was the French language SRC equivalent of the English Canadian CBC show Hockey Night in Canada.
In parallel with CBC, La Soirée du hockey often featured Montreal Canadiens games on Saturday evenings. In the past the SRC had aired Quebec Nordiques and Ottawa Senators games occasionally during the regular season if the Canadiens were not playing that night.
2002–03 deal with Réseau des sports
[
edit
|
edit source
]
Beginning with the 2002–03 season, RDS secured exclusive French language rights to the NHL. The deal, reached with the Canadiens and not directly with the league, was meant to ensure a consistent home for all Canadiens games, whereas, as a general-interest network, Radio-Canada could not give up so much airtime to Canadiens games. The announcement drew the ire of, among others, then-Heritage Minister Sheila Copps, who suggested that the network would somehow be violating its conditions of licence by not airing LSDH. In reality there is no specific regulatory requirement that the CBC's networks carry the NHL, nor that there be parity between the two networks' carriage thereof.
Radio-Canada soon reached an agreement to produce the Saturday night games, to remain branded La Soirée du hockey, to be simulcast on both SRC and RDS. However, for reasons that are unclear, that agreement was terminated after the 2004 playoffs. [1] The RDS-produced replacement, Le Hockey du samedi soir, was briefly simulcast on SRC outside Quebec, where RDS has limited distribution, but has since become exclusive to RDS.
Community content is available under
CC-BY-SA
unless otherwise noted.