Löfbergs Arena
Former names
Löfbergs Lila Arena (2001–2013)
Location
Norra Infarten 78
651 08 Karlstad
Broke ground
June 19, 2000
Opened
September 15, 2001
Renovated
2008–2009
Expanded
2002, 2004, 2009
Owner
Färjestad BK
Operator
Färjestad BK
Construction cost
160 million Swedish krona
Architect
Ulf Bergfjord, Bergfjord & Ivarsson Arkiteter Karlstad
Capacity
Ice hockey: 8,647
Concerts: 10,300
Tenants
Färjestad BK (SHL) (2001–present)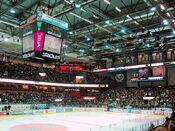 Löfbergs Arena is an arena located in Karlstad, Sweden, situated just above the river delta of Klarälven. It is primarily used for ice hockey, and is the home arena of Färjestad BK. It opened in 2001 following a complete overhaul and major expansion of the previously existing arena Färjestads Ishall. It replaced Färjestads Ishall as the home of Färjestad and has a capacity of 8,647 people.
On September 30, 2009, Färjestad BK faced off against the NHL's Detroit Red Wings in an exhibition match from the arena, losing 6–2.
The name of the arena comes from the coffee roastery Löfbergs.
External links