Krissy Wendell
Position
Forward
Shoots
Left
Height
Weight
5 ft 6 in (0 m)
154 lb (70 kg)
WCHA Team
Minnesota Golden Gophers
Born
September 12 1981
Brooklyn Park, Minnesota
,
Pro Career
1999 – present
Krissy Wendell (born September 12, 1981, in Brooklyn Park, Minnesota) is an American women's ice hockey player. During the 2004-05 season, Krissy Wendell set an NCAA record (since tied) for most shorthanded goals in one season with 7.[1] After graduating from Minnesota, she had the career record for most shorthanded goals in a career with 16. Ironically, both marks were tied by Meghan Agosta.
While attending Park Center Senior High School, she led the Girls Hockey Team to a State Championship. When she graduated from high school, Krissy Wendell was the state of Minnesota's all time leading girls' high school scorer [2] She went on to be one of the stars on the American national women's hockey team and served as their team captain. She was also a co-captain of the University of Minnesota Gophers women's hockey team. She is a forward, and has scored 133 points in two seasons (2002–2003, 2003–2004) for the Gophers. She won the Patty Kazmaier Award in 2005 for best female collegiate hockey player. Krissy Wendell became the first player from Minnesota, and the first from the WCHA to win the Patty Kazmaier Award. [3]
She made her debut with the U.S. National Team at the Three Nations Cup in 1998. [4] At the 2005 Women's World Ice Hockey Championships, Wendell led all players in scoring with 9 points as the USA won its first gold medal at the women's world championships. She was chosen to represent the United States in the XX Olympic Winter Games.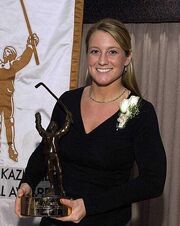 2000 Minnesota Ms. Hockey
2000 Bob Johnson Award for excellence in international competition (awarded at the USA Hockey Annual Congress)
2001 USA Hockey player of the year[5]
2002 Olympic Silver Medal
2003, 2004 NCAA D1 W. Ice Hockey Champion
2004 Little League Hall of Excellence[6]
2004 Most outstanding player award in the NCAA Division I Women's Hockey Tournament
2005 Patty Kazmaier Award[7]
2005 USA Hockey Bob Johnson Award[8]
2005 Most Valuable Player, Women's World Hockey Championships[9]
2006 Olympic Bronze Medal
2007 All-Star, Women's World Hockey Championships[10]
Community content is available under
CC-BY-SA
unless otherwise noted.