Krefeld Pinguine

City:
Krefeld,

Nordrhein-Westphalia

, Germany
League:
Deutsche Eishockey Liga
Founded:
1936
Home Arena:
Königpalast (cap.: 8,029)
Colors:
Black and yellow
General Manager:

Wolfgang Schäfer

Head Coach:

Martin Jiranek

Captain:
Herberts Vasiljevs
Franchise history
1936-1978:
Krefelder EV
1978-1981:
EHC Krefeld
1981-1995:
Krefelder EV
1995-present:
Krefeld Pinguine
Championships
Playoff Championships:
1952, 2003.
The Krefeld Pinguine are an ice hockey team in the Deutsche Eishockey Liga. They play in Krefeld, North-Rhine-Westphalia, Germany at the KönigPALAST.
Founded: first in 1936, the pro team became a limited liability company in 1995
Arena: KönigPALAST (capacity 8,029)
Uniform colours: Usually yellow and black
Logo design: A face of a penguin
League championships won: 1952 and 2003ne
Notable Players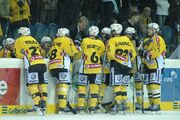 Goaltenders
Defencemen
Forwards
Christoph Brandner (2000–2003)

Kenny Brown

(1983–1988)
Dick Decloe (1974–1978)
Martin Hyun (2004-2005)
Peter Ihnacak (1992–1997)

Erich Konecki

† (1948–1952)

Lothar Kremershof

† (1969–1978/1981–1985)
Chris Lindberg (1994–1998)

Horst Ludwig

(1961–1968/1970–1974)

Hans Georg Pescher

(1948–1956)
Brad Purdie (2000–2003)

Frank Schwinghammer

Francois Sills

(1990–1995)

Klaus Stenders

(1958–1973)

Johnny Walker

(1989–1990/1991–2000)

Remy Wellen

(1955–1972)
External links