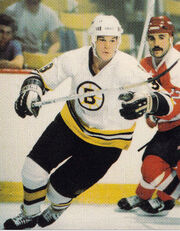 Kraig Nienhuis (born May 9, 1961 in Sarnia, Ontario) was a professional ice hockey left winger who played 87 games in the National Hockey League. He played with the Boston Bruins.
He played Junior "B" with the Sarnia Bees from 1980 to 1982 and then college hockey with the Rensselaer Engineers from 1982 to 1985. Undrafted by any NHL team, he was signed as a free agent by the Boston Bruins in 1985.
Nienhuis had a successful rookie season with the Bruins, scoring 16 goals and 14 assists in 1985-86. But his ice time decreased over the next two years and he spent more time in the minor pros.
In 1988 he moved to Germany and played for ESV Kaufbeuren. Nienhuis spent the next nine years in Europe, playing in Germany, Austria, Slovenia, and Great Britain. He played for Austria in the 1996 World Championship.
He moved back to North America in 1998 and played three seasons for the Port Huron Border Cats. Nienhuis retired in 2001.
In the NHL (all with the Bruins) he played in 87 games and scored 20 goals and 16 assists.
References