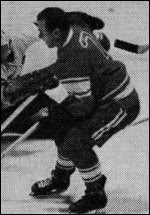 Konstantin Borisovich Loktev (Russian: Константин Борисович Локтев) (b. April 16, 1933 in Moscow - d. November 4, 1996) was an ice hockey player who played in the Soviet Hockey League. He played for HC CSKA Moscow.
He played on the Soviet National Team from 1957–1966, including the 1960 & 1964 Olympics.
After retiring from play in 1966 he turned to coaching. Loktev became coach of CSKA Moscow in 1974 and remained until 1977. He also was assistant coach of the Soviet National Team during the same period. He was let go in 1977 after some failures by the national team.