King Clancy Memorial Trophy

Established
1987-88 NHL season
Current holder
Saku Koivu
Awarded to the
National Hockey League player who best exemplifies leadership qualities on and off the ice and who has made a significant humanitarian contribution in his community
The King Clancy Memorial Trophy is awarded annually to the National Hockey League player who best exemplifies leadership qualities on and off the ice and who has made a significant humanitarian contribution in his community. No player has won the award more than once over its 19 year history, but players from the same team have won it in different years. The winner is chosen by "a special panel of representatives" from the Professional Hockey Writers' Association and the NHL Broadcasters' Association.[1] Players from Canadian teams have won the trophy eight out of eighteen times that it has been awarded, and from the Northwest Division (NHL) six out of eighteen times, in a six-division league.
History
The King Clancy Memorial Trophy is named in honour of Francis M. "King" Clancy, a former player for the Ottawa Senators and Toronto Maple Leafs who later went on to become a coach, referee, and team executive. The trophy was first awarded in 1988, and was presented to the National Hockey League by its board of governors.[2] No player has won it more than once, but two teams have had more than one player win the award. Three Calgary Flames have won the award, the most of any franchise; the only other franchise that has had more than one winner is the Boston Bruins, with two.
Players from six different Canadian teams have won this award. While players from the Calgary Flames have won three times, players from every other team (Edmonton Oilers, Montreal Canadiens, Toronto Maple Leafs, Vancouver Canucks, and Winnipeg Jets) have won it once. No team from the now-called Pacific Division have won it while being part of it (the Winnipeg Jets moved to Phoenix, Arizona to play as the Coyotes starting from the 1996-97 NHL season). The Northwest Division produced the most winners, with six different players, and a member from every team has won except the Minnesota Wild, which only started to play in the league as an expansion team starting from the 2000-01 season.
Winners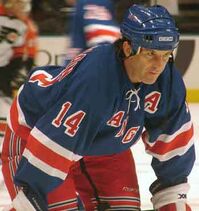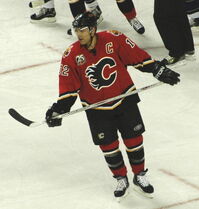 Player is still active
Season
Winner
Team
Player's humanitarian contribution
1987-88
Lanny McDonald
Calgary Flames
Supporter of numerous charities in Toronto and Calgary.[3]
1988-89
Bryan Trottier
New York Islanders
Worked with numerous charities, including the

Special Olympics

, the Long Island "Just Say No to Drugs" program, and the

Make-A-Wish Foundation

.[4]
1989-90
Kevin Lowe
Edmonton Oilers
Although very busy as a player and with the NHLPA, he was made the honorary Chairman of the Edmonton City Christmas Bureau, a charity which fed needy persons.[5]
1990-91
Dave Taylor
Los Angeles Kings
Did a lot of charity work with his team, and also assisted persons with speech impediments, as he had previously overcame one.[6]
1991-92
Ray Bourque
Boston Bruins
Involved in numerous charities; he was most notably the honourable Chairman for Boston's Floating Hospital for Infants and Children.[7]
1992-93
Dave Poulin
Boston Bruins
Spent a lot of time helping charities; he was Co-Chairman of the

March of Dimes

"Walk for Life" fundraiser.[8]
1993-94
Adam Graves
New York Rangers
Was previously recognized by his team and city for his extensive community work. He most notably served as Celebrity Chairman of New York's Family Dynamic program, a charity which assists abused children.[9]
1994-95
Joe Nieuwendyk
Calgary Flames
Was the captain of the Flames, and was leader in most of the Flames' charitable and humanitarian efforts.[10]
1995-96
Kris King
Winnipeg Jets
Was the Jets' captain as well as a major participant in various charitable organizations.[11]
1996-97
Trevor Linden
Vancouver Canucks
Started a program called the "Captain's Crew", which allowed underprivileged children to attend games in a private suite as his guest.[12]
1997-98
Kelly Chase
St. Louis Blues
Heavily involved with the Gateway Project, which helped mentally challenged children get involved in various sports.[13]
1998-99
Rob Ray
Buffalo Sabres
Involved with many charities, including the March of Dimes, the Make-a-Wish Foundation, Walk America and the

Roswell Cancer Institute

and Children's hospital.[14]
1999-00
Curtis Joseph
Toronto Maple Leafs
Worked mainly with sick children; he started "Cujo's Kids", which placed children with illnesses in a luxury suite at a Leafs game; also created "Cujo's Crease", a special room in the Sick Kids Hospital in Toronto which resembled the Leafs' dressing room.[15]
2000-01
Shjon Podein
Colorado Avalanche
Founded the Shjon Podein Children's Foundation, which assists sick and underprivileged children.[16]
2001-02
Ron Francis
Carolina Hurricanes
Involved in a program with Duke Children's Hospital in

Durham

, North Carolina that helps children.[17]
2002-03
Brendan Shanahan
Detroit Red Wings
Started a program that assists with the purchase and installation of smoke detectors for low-income households.[18]
2003-04
Jarome Iginla
Calgary Flames
Involved in all of the Flames' community programs, and donated 1,000 dollars for every goal he scored.[19]
2004-05
No winner due to the
2004-05 NHL lockout
-
-
2005-06
Olaf Kolzig
Washington Capitals
Co-founded "Athletes against Autism" after discovering that his son, Carson, had autism; also involved with numerous other charities.[20]
2006-07
Saku Koivu
Montreal Canadiens
After recovering from cancer, he founded the Saku Koivu Foundation in 2002, which raised around 2.5 million dollars when Koivu was awarded.[21]
See also
References
General
Specific