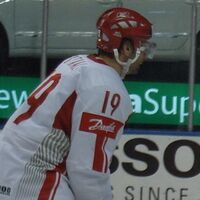 Kim Staal (b. March 10th 1978 in Copenhagen, Denmark) is a professional forward who plays in the Elitserien for Linköpings HC.
One of the very few Danes to ever be drafted to the National Hockey League, Staal was drafted by the Montreal Canadiens 92nd overall of the 1996 NHL Entry Draft. Staal spent most of his career with the Malmö IF Redhawks of the Elitserien, with a two seasons stint with MoDo Hockey, with whom he enjoyed his best season to date in 2001-02, collecting 14 goals and 23 assists for 37 points in 49 games. This performance had him play in the Elitserien All-Star Game that season for a second time; the first had been the previous season.
Staal is one of the key elements of the Danish National Team, with whom he played 57 games (senior) and 24 (junior).