Kim St-Pierre (born December 14, 1978 in Châteauguay, Quebec) is a women's ice hockey player.
Playing career
McGill
In 1998-99, she was the top rookie for the McGill Martlets women's ice hockey team. She was also the first woman in Canadian Interuniversity Sports history to win a men's regular season game when McGill University defeated Ryerson University on November 15, 2003 by a score of 5-2. [1]
International play
She played for the Canadian women's team in Turin. St. Pierre holds numerous records in international competition, including most shutouts (15), most wins (24), and lowest goals against average (0.84).[2] She received a gold medal in the Women's Hockey game at the 2010 Vancouver Winter Olympics[3].
CWHL
She currently plays for the Montreal Stars of the Canadian Women's Hockey League. In 2007-08, she was voted the CWHL Top Goaltender and a CWHL Eastern All-Star. By winning the 2009 Clarkson Cup, St. Pierre became an unofficial member of the Triple Gold Club (the accomplishment by women is not yet officially recognized by the IIHF), as she became one of only three women to win the Clarkson Cup, a gold medal in ice hockey at the 1998 Winter Olympics, and a gold medal at the IIHF women's world hockey championships. [4] She is currently a CAN Fund recipient [5] and plans to run a 5k at Ottawa Race Weekend on May 29, 2010.
Montreal Canadiens practice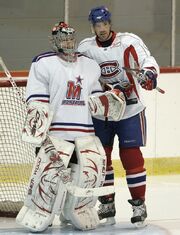 St. Pierre made women's ice hockey history on October 23, 2008, when she tended goal during a practice session with the Montreal Canadiens at Denis Savard Arena. Carey Price was out with the flu[6]. She was the second woman in NHL history to play alongside NHL players, since Manon Rheaume in an exhibition game. Wearing her usual #33 jersey, Alexei Kovalev put a wrist shot past her ear and Francis Bouillon blasted a slapshot that just missed her mask and deflected off the crossbar. St.Pierre referred to the experience as "priceless".
Awards and honors
CIAU Championship game Most Valuable Player in 2001
CIS Most Outstanding Player in 2003.
Top Goaltender at the 2001 World Championships
Top Goaltender at the 2004 World Championships
Top Goaltender at the 2002 Winter Olympics
References