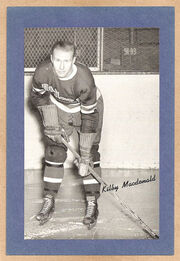 James Allan "Kilby" Macdonald (September 9, 1914 - May 11, 1986) was a Canadian professional left winger who played four seasons in the National Hockey League for the New York Rangers.
Playing career
Born in Ottawa, Ontario, Canada Macdonald won the Calder Trophy and the Stanley Cup in 1940. MacDonald played 151 career NHL games, scoring 36 goals and 34 assists for 70 points.
Macdonald played for the Ottawa Montagnards (both senior & junior) from 1930-33. He then played a year in Lake Placid before moving to Northern Ontario in 1934. At that time, at the heioght of the Great Depression, many hockey players moved to that region to play senior hockey and to get jobs in the mines.
He played two seasons there and was noticed by the New York Rangers, After three seasons in the minor pros, Macdonald made the Rangers in 1939-40 and won the Calder Trophy and helped the team win the Stanley Cup. Macdonald would play one more season with the Rangers before dropping to the American Hockey League in 1941-42 and to the Quebec Senior Hockey League in 1942-43.
He rejoined the Rangers in 1943-44 for two seasons. After one season with the Hull Volants of the Quebec Senior Hockey League he retired in 1946.
Awards & Achievements
He won the Calder Trophy as top NHL rookie in 1939–40.
Career statistics
 
 
Regular Season
 
Playoffs
Season
Team
League
GP
G
A
Pts
PIM
GP
G
A
Pts
PIM
1939–40
Rangers
NHL
44
15
13
28
19
12
0
2
2
4
1940–41
Rangers
NHL
47
5
6
11
12
3
1
0
1
0
1941–42
Hershey-Buffalo
AHL
58
28
30
58
18
--
--
--
--
--
1943–44
Rangers
NHL
24
9
7
16
4
--
--
--
--
--
1944–45
Rangers
NHL
36
9
6
15
12
--
--
--
--
--
1945–46
Hull
QSHL
9
2
4
6
0
--
--
--
--
--
NHL Totals
151
36
34
70
47
15
1
2
3
4