Formerly
Manitoba Junior B
Hockey League
Founded
1974
No. of teams
10
Most recent champion(s)
Peguis Juniors
Official website
Keystone Jr.ca
Related competitions
Keystone Cup
The
Keystone Junior Hockey League
(KJHL) is a Junior B hockey league operating in the Canadian province of
Manitoba
. The league plays under the sanction of
Hockey Manitoba
, in affiliation with
Hockey Canada
. The league champion is awarded the
Baldy Northcott Trophy
and represents Manitoba at the Western Canada Junior B Championship for the
Keystone Cup
.
The league started in the seventies as the Manitoba Junior B Hockey League, changing to the current name in 2004.
Currently, the KJHL consists of 10 teams, with each playing 34 games during the regular season. All teams make the playoffs. Teams finishing 4th and 5th in each division, playoff in a best-of-three survivor series to determine playoff seeding. Winners then move on to the regular playoff format, which are an elimination tournament consisting of 3 rounds. Best-of-five division semifinals, best-of-seven division final, and league championship, with the winner becoming the KJHL, Manitoba, and Baldy Northcott Trophy champions.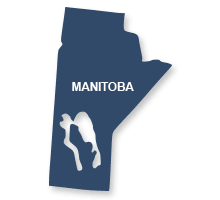 ChampionsEdit
Keystone Junior Hockey League
Baldy Northcott Trophy: Manitoba Provincial Champion
Manitoba Junior B Hockey League
Carillon Cup: Champion advanced to Provncial Playoffs for the Baldy Northcott Trophy.
Timeline of Teams
Edit