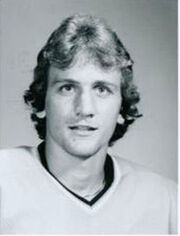 Kevin McClelland (born July 4 1962, Oshawa, Ontario) is a retired professional ice hockey forward.
He played junior hockey with the Niagara Falls Flyers of the Ontario Major Junior Hockey League (OMJHL). He was drafted by the Whalers after his rookie year (1979-80). In his second year he scored 108 points with he Flyers.
McClelland was drafted in the 4th round, 71st overall, by the Hartford Whalers during the 1980 NHL Entry Draft. His rights were transferred to the Pittsburgh Penguins in 1981 as part of the compensation for the Whalers' signing of free agent Greg Millen.
He was called up from the Flyers in the 1981-82 season and played 10 games for the Penguins. The next year his season was cut short by a shoulder injury. In 1983-84 McClelland was traded to the Edmonton Eskimos.
The majority of his NHL career was served with the Edmonton Oilers (1984–1989), with whom he won four Stanley Cups 1984-85-87-88. He played seven seasons with the Oilers as a regular.
He was traded to the Detroit Red Wings in 1989. This marked mostly the end of his NHL career. He spent time with the Wings, Toronto Maple Leafs, and the Winnipeg Jets but was not able to secure a regular spot.
McClelland retired in 1995 following 588 NHL games, recording a total of 68 goals, 112 assists, 180 points, and 1672 penalty minutes.
He served as the head coach of the Central Hockey League's Mississippi RiverKings for 3 years until he resigned on June 11, 2008.
He is now the Head Coach of the Wichita Thunder of the Central Hockey League.
Awards & Achievements
1983–84 - NHL - Stanley Cup (Edmonton)
1984–85 - NHL - Stanley Cup (Edmonton)
1986–87 - NHL - Stanley Cup (Edmonton)
1987–88 - NHL - Stanley Cup (Edmonton)
External links