(One intermediate revision by one other user not shown)
Line 1:
Line 1:
 
+

[[File:Kenpriestlay.jpg|thumb]]

 

'''Kenneth "Ken" Priestlay''' (Born August 24, 1967 in [[Vancouver]], [[British Columbia]]) is a retired [[National Hockey League|NHL]] player.

 

'''Kenneth "Ken" Priestlay''' (Born August 24, 1967 in [[Vancouver]], [[British Columbia]]) is a retired [[National Hockey League|NHL]] player.

 
 
Line 25:
Line 26:
 
 
 

{{DEFAULTSORT:Priestlay, Ken}}

 

{{DEFAULTSORT:Priestlay, Ken}}

−
 
−
 
−
 
 

[[Category:Powell River Regals players]]

 

[[Category:Powell River Regals players]]

−

[[Category:Allan Cup winners]]

 
 

[[Category:Allan Cup winners]]

 

[[Category:Allan Cup winners]]

 

[[Category:Born in 1967]]

 

[[Category:Born in 1967]]

Line 37:
Line 34:
 

[[Category:Canadian ice hockey players]]

 

[[Category:Canadian ice hockey players]]

 

[[Category:Cleveland Lumberjacks players]]

 

[[Category:Cleveland Lumberjacks players]]

−

[[Category:Kalamazoo Wings players]]

+

[[Category:Kalamazoo Wings players]]

−

[[Category:Muskegon Lumberjacks players]]

+

[[Category:Muskegon Lumberjacks players]]

 

[[Category:Pittsburgh Penguins players]]

 

[[Category:Pittsburgh Penguins players]]

 

[[Category:Rochester Americans players]]

 

[[Category:Rochester Americans players]]
---
Latest revision as of 20:43, 2 March 2012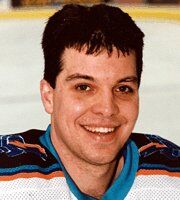 Kenneth "Ken" Priestlay (Born August 24, 1967 in Vancouver, British Columbia) is a retired NHL player.
Although he was drafted by the Buffalo Sabres in the 1985 NHL Entry Draft, he remained with the Cougars for parts of two more campaigns where his play kept improving. In 1985-86, he finished the season with 145 points in 72 games.
The junior scoring ace turned pro with the Sabres in 1986-87. The moved marked the beginning of an on again-off again relationship with the NHL. In his first 34 games as a Sabre, he scored moderately well and avoided becoming a defensive liability. But nonetheless, he found himself with the Rochester Americans of the AHL to start the next campaign. The bounce between the two leagues became the norm for Priestlay's uneven career as an NHLer.
By 1990, he grew tired of the cycle and decided to join the Canadian National Team where, like his junior days, he got plenty of ice time. While away from the NHL, his rights were traded to the Pittsburgh Penguins.
With the Pens, Priestlay gave his sputtering big-league career one last crack. He performed as a defensive specialist for 49 games during the 1991-92 campaign before heading to the minors with the Muskegon Lumberjacks, Cleveland Lumberjacks, and Kalamazoo Wings of the IHL.
In 1994, the strong skating centreman took his game to the United Kingdom to play for the Sheffield Steelers. There he put in five successful seasons as the kind of scoring ace he was accustomed to being as an amateur and in the minors.
He left Sheffield in 1999 and joined the senior amateur Powell River Regals as they won the Allan Cup in 2000.
Community content is available under
CC-BY-SA
unless otherwise noted.