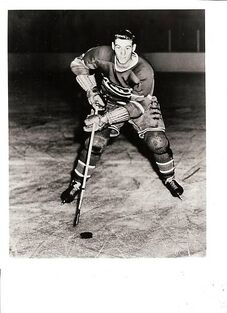 Kenneth "Kenny" Mosdell (July 13, 1922 in Montreal, Quebec, Canada – January 5, 2006) was a Canadian forward.
Mosdell started out with the Montreal Junior Royals in 1938-39, The next season, Mosdell scored 10 goals and 16 assists in 10 Memorial Cup playoff games. The Royals lost the 1940-41 Memorial Cup Final to the Winnipeg Rangers.
The next season he was signed by, and played for the Brooklyn Americans in their last season, He spent the next two seasons playing senior hockey in the Montreal area.
The Canadiens obtained his rights from the Americans. He played with the Habs from 1944-45 through 1955-56, usually as a defensive specialist. He won three Stanley Cups in 1946, 1953, and 1956.
He was sold to the Chicago Black Hawks in 1956 and spent one season there before being returned to the Canadiens in 1957. He spent the 1957-58 and 1958-59 seasons between the Canadiens and their Montreal Royals farm team in the Quebec Hockey League.
Mosdell played with the Montreal Royals of the Eastern Professional Hockey League in the 1959-60 EPHL Season before retiring.
He was the last active player who had played with the New York Americans/Brooklyn Americans,
Mosdell died January 5, 2006. His health had declined steadily after suffering a stroke three days previously,