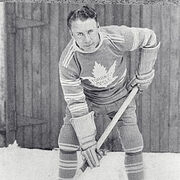 Kenneth Edward "Ken" Doraty (June 23 1906 – April 4 1981) was a professional ice hockey player born in Stittsville, Ontario.
He started out playing for the junior Regina Pats, winning the Memorial Cup in 1924-25.
Doraty then turned pro with the Portland Rosebuds of the Western Canada Hockey League in 1925-26. He went with the team to the expansion Chicago Black Hawks of the National Hockey League where he scored no points in 18 games.
He then spent the next five seasons in the minors, being a light 135 pounds. His small size scared off NHL teams.
Doraty made it back to the NHL finally in 1932-33 with the Toronto Maple Leafs. On April 3, 1933, in the fifth game of the semi-finals, Doraty scored a goal at 104:46 of overtime to give Toronto a 1–0 victory over the Boston Bruins in a Stanley Cup playoff game. The goal ended what was at the time the longest game in NHL history, and remains to this day the longest game in either team's history.
The longest overtime game in NHL history was played three years later, on March 24, 1936, and was won 1–0 by Mud Bruneteau of the Detroit Red Wings on a goal at 116:30 of overtime against the Montreal Maroons. The two games cited above are the only two games to reach a sixth overtime in NHL history. Hockey Hall of Fame goalie Lorne Chabot played in both marathons, winning the Doraty game and losing the Bruneteau game.
Doraty played part of the 1933-34 season with the Leafs before returning to the minors for good, He retired in 1939.
He later coached the Moose Jaw Canucks for three seasons, including a trip to the Memorial Cup Final in 1947.
Community content is available under
CC-BY-SA
unless otherwise noted.