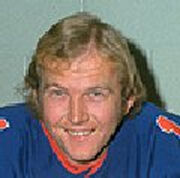 Kenneth Murray Brown (born December 19, 1948 in Port Arthur, Ontario) is a former professional ice hockey goaltender.
Despite winning the Canadian Major Junior Hockey League Goaltender of the Year and being on the CMJHL First All-Star Team in 1967, Brown went undrafted coming out of junior. He signed a free agent contract with the Dallas Black Hawks of the CHL, the Chicago Black Hawks minor league affiliate.
He played one game with Chicago, where he was behind Tony Esposito and Gerry Desjardins on the depth chart, and this was his only time game in the National Hockey League. Otherwise Brown played with Dallas until 1972.
He was selected by Calgary-Cleveland in the 1972 1972 WHA General Player Draft, although his rights were traded to the Alberta/Edmonton Oilers for cash. Brown won 21 games over two seasons (1972-73 and 1974-75) with the Oilers.
Brown retired in 1975 but returned in 1977-78 to play senior hockey for the Preston Jesters.
External links