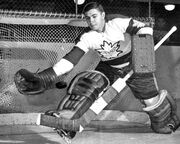 Kenneth Lorne Broderick (born February 16, 1942 in Toronto, Ontario) is a retired professional ice hockey goaltender who played 27 games in the National Hockey League and 73 games in the World Hockey Association. He played with the Minnesota North Stars, Boston Bruins, Edmonton Oilers, and Quebec Nordiques. His brother Len also played in the NHL.
Broderick started out with the junior Toronto Marlboros and switched to the Brampton Seven Ups in 1961-62. After playing a year with the University of British Columbia Broderick joined the Canadian National Team in 1963.
He stayed with the national team through 1967-68. His high point was winning the bronze medal in the 1968 Olympics and being named the outstanding goaltender.
Broderick's rights were owned by the Toronto Maple Leafs. They traded him to the Minnesota North Stars in 1967. Broderick turned pro in 1968-69 and played 7 games for the North Stars in 1969-70. In 1970-71, he switched to senior hockey and won the 1970-71 Allan Cup Final with the Galt Hornets.
Back in the pros the following season, Broderick found his way to the Boston Bruins where he became the backup to Gilles Gilbert. He saw limited action with the Bruins as he could not dislodge Gilbert.
In 1976-77, he jumped to the Edmonton Oilers of the World Hockey Association where he played for a season and a half. He was traded to the Quebec Nordiques in 1977-78 and finished off his career that year.
Awards
[
]
Gallery
[
]
References
[
]