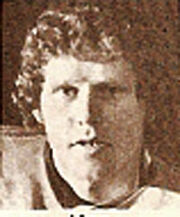 Kenneth Stewart Baird
Hometown: Snow Lake, Manitoba
Position: Defense / Left Wing
Selected by California Golden Seals 2nd round (#15) in 1971 NHL Amateur Draft

is a retired professional ice hockey defenceman who played 332 games in the World Hockey Association and 10 games in the National Hockey League. He played for the Edmonton Oilers, Winnipeg Jets, Calgary Cowboys, and California Golden Seals.
He played junior hockey for the Flin Flon Bombers and the Estevan Bruins. The California Golden Seals chose him 15th overall in the 1971 NHL Amateur Draft.
After spending a year with the Seals and their farm team the Oklahoma City Blazers Baird junmped to the Alberta Oliers of the World Hockey Association (WHA) in 1972. Baird stayed with the Oilers through 1977-78, with brief stops with the Calgary Cowboys and the Winnipeg Jets. He won the Avco World Trophy with the Jets in 1978.
In 1978 Baird went to Germany where he played three seasons for EV Duisburg. He retired in 1981.
In the NHL Baird played in 10 games, scoring 2 assists. In the WHA he scored 91 goals and 99 assists in 332 regular season games and 6 goals and 5 assists in 17 playoff games.
Career Statistics
Career Moves
Selected by Alberta (WHA) in 1972 WHA General Player Draft, February 12, 1972.
Signed WHA contract with Alberta, July 7, 1972.
Released by Edmonton, Oct. 21, 1976.
Signed as a free agent by Calgary (WHA), Oct. 22, 1976.
Signed as a free agent by Edmonton (WHA) after Calgary (WHA) franchise folded, May 31, 1977.
Signed as a free agent by Winnipeg (WHA) after being released by Edmonton (WHA), December, 1977.
Awards & Achievements
References