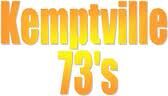 The Kemptville 73's are a Canadian Junior "A" ice hockey team based out of Kemptville, Ontario. They play in the Central Canada Hockey League of the Ottawa District Hockey Association.
History
They were founded in 1969. In 1973 they changed their name from Comets to 73's. They switched from the Eastern Ontario Junior Hockey League (Junior "B") to the Central Junior A Hockey League in 2007.
On September 14, 2007, the Kemptville 73's played their first ever Junior "A" hockey game. At home, the 73's took on the Nepean Raiders but lost the game 5–2. Anthony Scarpino scored the 73's first ever Junior "A" goal with forty-six seconds left in the first period. Alex Beaudry started the historic game in net.
On September 23, 2007, the 73's won their first ever Junior "A" hockey game by defeating the Kanata Stallions, at home, by a score of 4–2.
Currently, the team carries a member of the community who has been involved with the program since its inception in 1969. John Guy, a local legend, has been involved with the 73s as the equipment manager. John is known and loved by many in the community for his involvement and comical antics.
On April 8, 2008, Mark Nasca become the first 73 in history to commit to a Division I school when he signed with the Colgate University Raiders for the 2008-2009 season.
On December 23, 2008, Rob Capellupo was announced as head USA Scout for bringing in players. He was also announced as the teams physical and psychological doctor.
On June 26, 2009, Calvin de Haan was drafted 12th overall by the New York Islanders, de Haan is a former "73".[1]
Season-by-season results
Season
GP
W
L
T
OL
GF
GA
P
Results
Playoffs
1999-00
45
32
10
3
-
218
127
68
1st EO StLawr
Lost Final
2000-01
45
30
13
2
-
217
138
62
1st EO StLawr
Lost Final
2001-02
45
19
24
2
-
194
182
43
4th EO StLawr
Lost Division S-final
2002-03
45
21
15
4
5
210
197
51
3rd EO StLawr
Lost Division Final
2003-04
45
30
13
2
0
228
137
62
3rd EO StLawr
Lost Division S-final
2004-05
45
28
13
3
1
223
166
60
1st EO StLawr
Lost Division Final
2005-06
45
31
12
0
2
293
196
64
1st EO StLawr
Lost Division Final
2006-07
40
21
15
2
2
217
179
46
4th EO StLawr
Lost Division Semi-Final
2007-08
60
15
39
2
4
164
260
36
9th CJHL
DNQ
2008-09
60
15
38
-
7
126
225
37
10th CJHL
DNQ
2009-10
62
27
29
-
6
191
214
60
8th CJHL
Lost Quarter-final
2010-11
62
22
33
-
7
157
225
51
10th CCHL
DNQ
2011-12
62
13
44
-
5
164
299
31
11th CCHL
DNQ
2012-13
62
15
44
-
3
152
295
33
12th CCHL
DNQ
2013-14
62
26
30
-
6
210
232
58
8th CCHL
Lost Quarter-final
2014-15
62
26
25
6
5
225
223
63
6th of 6 Robinson
9th of 12 CCHL
Did Not Qualify
Season
GP
W
L
OL
SL
GF
GA
P
Results
Playoffs
2015-16
62
36
23
2
1
224
179
75
5th of 6 Robinson
7th of 12 CCHL
Lost Quarterfinals, 1-4 (Jr. Senators)
2016-17
62
33
25
2
2
216
188
70
4th of 6 Robinson
5th of 12 CCHL
Won Quarterfinals, 4-2 (Hawks)
Lost Semifinals, 2-4 (Canadians)
2017-18
62
18
40
2
2
159
267
40
6th of 6 Robinson
11th of 12 CCHL
Did Not Qualify
2018-19
62
21
34
5
2
176
227
49
6th Robinson
Did Not Qualify
2019-20
62
26
31
-
5
182
230
57
6th Robinson
Did Not Qualify
2020-21
League only played training games due to COVID-19 pandemic
References
External links