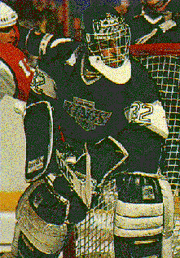 Kelly Hrudey (b. January 13th 1961 in Edmonton, Alberta, Canada) is a former professional goaltender who played in the National Hockey League for the New York Islanders, Los Angeles Kings and San Jose Sharks.
Hrudey began his career with the WHL Medicine Hat Tigers in 1978. He was the Islanders' second round choice (38th overall) in the 1980 NHL Entry Draft. Hrudey had to go through two full seasons and parts of two more in the Central Hockey League with the Indianapolis Checkers before he got his chance at the NHL level. He did well in Long Island, and the highlight of his stay there is undoubtedly his 73 saves performances in what is known as the Easter Epic, the longest game in the history of the New York Islanders, where they defeated the Washington Capitals 3-2 after 68:47 of overtime in Game 7 of their playoffs meeting. Pat LaFontaine put an end to the seemingly endless game, that finished near 2 AM on 1987 Easter Day (hence the name).
However, the netminder, who was well known for his blue bandana, had his best years in Los Angeles, reaching the Stanley Cup Finals in 1993 against the Montreal Canadiens. The Kings, however, didn't succeed in winning Lord Stanley's precious trophy.
Hrudey joined the Sharks as a free agent in 1996 and spent two seasons there before retiring in 1998. He then became analyst at the Hockey Night in Canada, hosting the Behind the Mask segment.
External Links