Kelly Foley (born October 28, 1989) is an ice hockey player for the Dartmouth Big Green.
Her freshman season was in 2008-09 and she appeared in all of the Big Green's 34 games. Her 12 goals ranked second among freshmen, while her 13 assists led all freshmen. During the season, she had a six-game goal-scoring streak (the streak included eight goals scored), including two games in which she scored two goals. In her first NCAA game, she registered two assists at Princeton (on October 31). On January 9, she notched a goal and two assists at Yale as the Big Green prevailed by a 5-2 tally. Another three-point game came on January 30 vs. Rensselaer as she scored two goals and logged an assist. In the regular season finale, Foley scored two goals in the final period against Clarkson for a 4-4 final. In the postseason, she had a career best three assists in the series clinching game versus Colgate. In the ECAC semi-finals, she scored the game-winning goal versus St. Lawrence and added an assist for a 5-2 triumph.
During her sophomore season (2009-10), she only participated in 15 games. She missed the final 13 games with a lower leg injury. In 15 games, she registered three goals and added nine assists for 12 points. Her 12 points were tied for seventh in team scoring. Two of the goals she scored were game-winners. On October 31, she tied her career high of three assists in a match versus the Colgate Raiders. Foley recorded a goal and an assist in a 4-1 win over Princeton on November 13. She had the same statistics a week later as Dartmouth bested Yale by a 6-2 score. Her longest point streak lasted three games as she had assists versus Vermont (Nov. 28), New Hampshire (Dec. 12) and Vermont (Dec. 30).
At the end of the 2010-11 season, she was named to the Division I women's hockey All-Star team. Foley was one of six forwards to be named. She registered 17 goals (nine scored on the power play) and 14 assists for 31 points.[1]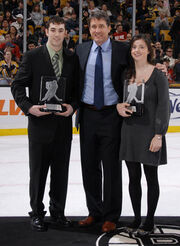 2007 All-New England First Team
2008 All-New England First Team
2008 John Carlton Award, (given by the Boston Bruins and is awarded to a student-athlete)[2]
2010-11 New England Women's Division I All-Stars[3]
Her mother, Dawn, played hockey for the Providence College Friars from 1977-78. In addition, her sister, Catherine, competed with the Boston University Terriers from 2005-07.
==References==
Community content is available under
CC-BY-SA
unless otherwise noted.