Kelli Stack
Position
Forward
Height
Weight
5 ft 5 in (1.65 m)
130 lb (59 kg)
ECAC Team
Boston College Eagles
Born

USA
January 13, 1988,
Pro Career
2006 – present
Kelli Stack (born January 13, 1988) is an American ice hockey forward. She was named to the United States women's ice hockey team for the 2010 Winter Olympics. [1]
Stack competed for the Boston College Eagles women's ice hockey program.
Playing career
NCAA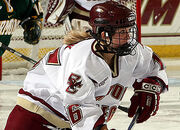 Stack was involved in controversy as a freshman at Boston College when her then head coach, Tom Mutch, was forced to resign after questionable text messages between Mutch and Stack were discovered on her cell phone. Though a sexual relationship was never proven, the messages were said to be inappropriate at the time. [2] Former Olympian Katie King took over the coaching reins at Boston College after Mutch resigned.
Stack remained at Boston College. In the first eight games of the 2010–11 Boston College Eagles women's ice hockey season, Kelli Stack has scored a goal in seven out of eight games [3] She finished October 2010 with fifteen points (nine goals, six assists) in eight games for Boston College. Stack started every game at center and has accumulated points in every game. She finished the month leading the Eagles in points, goals, power play goals, and shorthanded goals. On October 31, she was involved in all three goals against Connecticut (one goal, two assists). She was part of all three goals scored at Vermont on October 15 (two goals, one assist). Against the Syracuse Orange women's ice hockey program (on October 9, 2010), Stack scored a hat trick.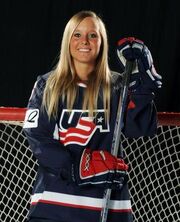 On November 20, 2010, she scored a hat trick against rival Boston University. It was the second hat trick of the season, and third of her career.[4] Eight days later, Stack scored two goals in under sixty seconds (the first goal was scored at 17:12 in the third period, and the second was scored at 17:58[5]), as BC beat New Hampshire by a 3-1 tally.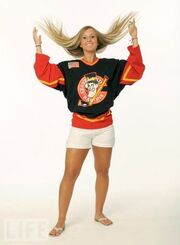 Awards and honors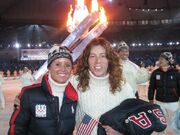 Hockey East Player of the Week (Week of November 1)[6]
Hockey East Pure Hockey Player of the Month (October 2010) [7]
Hockey East Pure Hockey Player of the Month, November 2010[8]
2010-11 Hockey East Army ROTC Three Stars Award
2010-11 Hockey East Scoring Champion[9]
2011 Hockey East All-Tournament team [10]
2011 Hockey East Tournament MVP
2011 Second Team All-America selection[11]
References