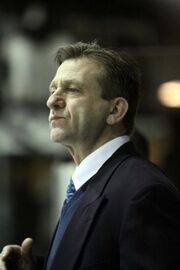 Keith Allain (born September 26, 1958 in Worcester, Massachusetts) is an American ice hockey coach. He is currently the head coach of the Yale Bulldogs men's ice hockey team, a position he has held since 2006.[1]
Allain played as a goaltender with the Yale Bulldogs from 1982 to 1985 and with Järfälla HC in Sweden from 1989 to 1991.
After serving as a scout, Allain became an assistant coach in the National Hockey League with the Washington Capitals from 1993-1997. He then served as the goaltending coach for the St. Louis Blues from 1998 to 2006.[2]
Allian served as an assistant coach with the United States men's national ice hockey team at the 1992 and 2006 Winter Olympics.
References
External links