Katey Stone is the most successful coach in the history of Division I women's ice hockey. Stone has accumulated 339 victories and has coached 16 seasons as a head coach with the Harvard Crimson. Stone was the third coach in women's college hockey history to win 300 games.
Early life
Edit
Stone was a captain and four-year letter winner in hockey for the New Hampshire Wildcats women's ice hockey program. Stone was part of two ECAC championships in 1986 and 1987. In addition to ice hockey, Stone was an accomplished lacrosse player at New Hampshire and was part of the team that won the 1985 NCAA title. She graduated in 1989 with a degree in physical education. Before Harvard, Stone coached at Tabor Academy, Northfield Mount Hermon School and Phillips Exeter Academy. Her father, Larry, coached baseball and football at Exeter and Portsmouth high schools in New Hampshire and was at the Taft School in Connecticut for 34 years.[1]
Harvard Crimson
Edit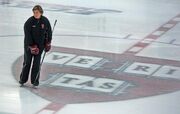 During her tenure, Stone has accumulated a record of 339-144-27 through the end of the 2010 season.[2] Before the 1994-95 season, Stone replaced John Dooley as the Crimson head coach. In her first year, she put together a record of 12-11-2. Over the next three seasons, the Crimson would be below .500. In 1998-99, the Crimson would go from 14-16-0 to 33-1-0. Under Stone, the club won win the national championship in 1998-99. She is a member of the NCAA Championship committee and was a former president of the American Women's Hockey Coaches Association. On February 26, 2010, the Crimson defeated the Princeton Tigers women's ice hockey program by a 5-1 score. With the win, Katey Stone became women's college hockey's all-time winningest coach, surpassing former Minnesota Golden Gophers women's ice hockey head coach Laura Halldorson. [3]
Stone has coached nine players that have competed in ice hockey at the Winter Olympic Games. In addition, six of the first 12 winners of the Patty Kazmaier Memorial Award (Jennifer Botterill twice, Julie Chu, A.J. Mleczko, Angela Ruggiero, Sarah Vaillancourt) were players under Stone's tutelage. [4] Players for the Crimson have earned All-America honors a total of 21 times since the 1998-99 season. These All-Americans include the first players be four-time first-team All-Americans: Jennifer Botterill and Angela Ruggiero. Stone has also coached eight ECAC Players of the Year, nine Ivy League Players of the Year, four ECAC Rookies of the Year, and five Ivy League Rookies of the Year. [5]
Postseason
Edit
1999 AWCHA national championship
Eight NCAA tournament appearances
(Until end of 2010 season)
Six ECAC regular-season titles
Five ECAC tournament championships
Five Ivy League titles
10 Beanpot championships
International
Edit
Stone coached the 1996 U.S. National Team. Ten years later, she was the head coach of the U.S. Women's Under-22 Team. She was the head coach of the gold-medal winning U.S. Women's Under-18 National Team at the World Championships in January 2008. In November 2008, Stone led the US National Team to the gold medal at the Four Nations Cup.
References
Edit
Community content is available under
CC-BY-SA
unless otherwise noted.