Karen Thatcher
Position
Forward
Height
Weight
5 ft 8 in (1.73 m)
145 lb (66 kg)
Hockey East
WWHL

CWHL Team
Providence
BC Breakers (2006-07)
Minnesota Whitecaps (2008-09)
Vaughan Flames (2007-08)
Born

Douglas, Massachusetts
February 29, 1984,
Pro Career
2002 – present
Karen Thatcher (born February 29, 1984) is an American ice hockey forward. She was named to the United States women's ice hockey team for the 2010 Winter Olympics. [1] Prior to the US National Team, Thatcher competed for theProvidence Friars women's ice hockey program.
Thatcher transferred to the Providence Friars after spending the 2002-03 season with the Brown Bears. In her sophomore year, she tied for fourth on the Friars in points (she had 10 goals and 27 points). She was honoured as Hockey East's sportsmanship award winner. In her junior year, Thatcher scored 58 points (25 goals, 33 assists). She was co-Hockey East Player of the Year (shared the honour with New Hampshire Wildcats player Stephanie Jones).
As a senior, Thatcher was the Friars scoring leader. For her efforts, she was a Top 10 candudate for the Patty Kazmaier Award. In addition, she was the team captain. For her NCAA career, she accumulated 167 points in 132 games played. During her time with the Friars, the team won Hockey East tournament championships in both 2004 and 2005.[2]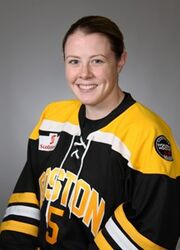 She played for the BC Breakers of the Western Women's Hockey League in 2006-07. Statistically, she led the team and ranked 10th in the league with 36 points (19-17) in 26 games. The following year, she joined the Vaughan Flames of the Canadian Women's Hockey League and helped the team to the inaugural CWHL championship. In 2008-09, she returned to the WWHL and helped lead the Minnesota Whitecaps to the league championship. [3]
Most Valuable Player, Pool B, 2007 Esso Canadian Women's Nationals[4]
Top Forward, Pool B, 2007 Esso Canadian Women's Nationals
Top 10 Finalist, 2006 Patty Kazmaier Award[5]
2004 HOCKEY EAST Sportsmanship Award [6]
HOCKEY EAST Player of the Week Honors two times (11/8/04), and (1/31/05)
Named to the 2002-03 ECAC All-Rookie Team
Bruins' John Carlton Award in 2002
Community content is available under
CC-BY-SA
unless otherwise noted.