The Kansas City Greyhounds were a minor pro team out of Kansas City, Missouri. They played in the American Hockey Association from 1933 to 1940.
They were originally the Kansas City Pla-Mors from 1927 to 1933. The name was changed during the 1932-33 playoffs.
The Greyhounds won the playoff championship in 1933-34. They were sold due to falling attendance in 1940 to become the Americans.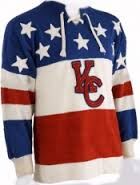 Season-by-Season Records
[
]
Season
Games
Won
Lost
Tied
Points
Goals
for
Goals
against
Standing
Playoffs
1933-34
48
26
18
4
52
106
87
1st
Won Final
1934-35
48
23
25
0
46
82
102
3rd
Lost Semi Final
1935-36
48
21
26
2
44
94
105
5th
1936-37
48
21
23
4
46
78
95
3rd
Lost Semi Final
1937-38
48
21
22
5
42
120
120
5th
1938-39
48
15
33
0
30
133
225
5th
1939-40
48
20
28
0
56
129
175
5th
Greyhounds who played in the NHL

[

]