Kacey Bellamy
Position
Defense
Shoots
Left
Height
Weight
5 ft 8 in (1.73 m)
143 lb (65 kg)
ECAC Team
New Hampshire Wildcats
Born

Westfield, Massachusetts
April 22, 1987,
Pro Career
2005 – present
Kacey Bellamy (born April 22, 1987) is an American ice hockey defenceman. She was named to the United States women's ice hockey team for the 2010 Winter Olympics. [1]
Playing career
Bellamy graduated from the Berkshire School (Massachusetts) in 2005, where she lettered in hockey, field hockey and softball. In her senior year, she was named team MVP and co-MVP of the New England Prep School Athletic Council Division I. She finished her hockey career with 30 goals and 80 assists. She was Berkshire's Female Athlete of the Year as a junior and senior.
New Hampshire Wildcats
She ranks third all-time at UNH in career points by a defenseman. As a Freshman, she led New Hampshire Blueliners in goals (9) and was second in both assists (16) and points (24). In her sophomore season, she ranked second among team defensemen and 10th among the nation's blueliners with 29 points (10 goals, 19 assists). In 2007-08 (junior year), she led all Wildcat defensemen with 26 points (3 goals, 23 assists) and ranked 10th in the nation with .74 points per game. In her senior year, (2008-09), she ranked fourth among NCAA Blueliners with 28 points (6 goals. 22 assists) in 35 games en route to being named to the RBK All-America First Team.
USA Hockey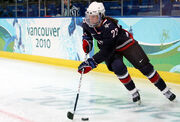 Bellamy is a two-time USA Hockey Player Development Camp attendee (2004-05). From 2006-09, she was a four-time USA Hockey Women's National Festival participant. In addition, she was a two-time member of the U.S. Women's Under-22 Select Team. She was part of the U.S. Women's Select Team for the Four Nations Cup that finished first in 2008. She also played for the team when they had second place finishes in 2006 and 2007. Bellamy was part of two gold medal winning squads for the U.S. Women's National Team for the International Ice Hockey Federation World Women's Championship in 2008 and 2009. For 2009, she was named one of Team USA's top-three players.[2]
Awards and honors
All-USCHO Rookie Team, 2006
Hockey East RBK/CCM All-Tournament Team, 2006
Hockey East Second Team All-Star, 2007
Hockey East RBK/CCM All-Tournament Team, 2007
Hockey East Second Team All-Star, 2008
RBK All-America First Team, 2009
Hockey East First Team All-Star honors, 2009
Hockey East Tournament MVP, 2009
Hockey East All-Tournament Team, 2009
UNH's Jim Urquhart Student-Athlete of the Year, 2009
References