Justin Schultz (born July 6, 1990) is a Canadian professional ice hockey defenceman. He is currently playing with the Pittsburgh Penguins of the National Hockey League (NHL). Schultz was born in Kelowna, British Columbia, but grew up in Westbank, British Columbia.
Playing career
[
]
Schultz played collegiate hockey for the University of Wisconsin Badgers, which competed in the WCHA. He was selected by the Anaheim Ducks in the second round (43rd overall) of the 2008 NHL Entry Draft.
Drafted by the Anaheim Ducks, Schultz was unable to come to terms on a contract with the team. During the last week of May 2012, Schultz officially "de-registered" from the University of Wisconsin triggering a process that made him an unrestricted free agent (UFA). According to league rules, from the time Anaheim was given notice of the de-registration from school, they had a 30-day exclusive window to try to sign him or trade him. Anaheim was ultimately unable to sign him. Schultz was heavily recruited by up to 26 teams as a free agent, with the Edmonton Oilers having Wayne Gretzky and Paul Coffey personally recruit him. On June 30, 2012, Schultz agreed to a two-year entry-level contract with the Edmonton Oilers.
Schultz played the first 34 games of his professional career in the AHL while recording 48 points in 34 games, leading all defencemen in scoring. He was ultimately awarded the AHL's Eddie Shore Award in 2012-13 as the league's top defenceman despite participating in less than half of the Oklahoma City Barons' games.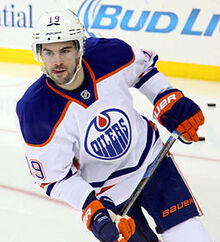 Schultz later played his first NHL game in the first Oilers game following the 2012-13 NHL season NHL Lockout against the Vancouver Canucks. He scored his first goal during the next game, the Oilers' home opener, against Antti Niemi of the San Jose Sharks on January 22, 2013.
On August 28, 2014, Schultz signed a new one-year contract with the Edmonton Oilers valued at $3.675 million.
On February 27, 2016, with the Oilers out of playoff contention for the 2015-16 season, and suffering the worst season of his professional career with 10 points in 45 games, Schultz was traded from the Oilers to the Pittsburgh Penguins in exchange for a 2016 third round draft pick. On June 12, 2016, Schultz won his first Stanley Cup when the Penguins defeated the San Jose Sharks in the 2016 Stanley Cup Finals.
On July 13, 2016, after testing free agency, Schultz returned to the Pittsburgh Penguins, signing a one-year, $1.4 million contract.
Career statistics
[
]
Regular season and playoffs
[
]
International
[
]
Year
Team
Event
Result
GP
G
A
Pts
PIM
2013
Canada
WC
5th
8
0
4
4
2
Senior totals
8
0
4
4
2
Awards and honours
[
]
External Links
[
]