Julie Chu
Position
Forward/Defense
Height
Weight
5 ft 8 in (1.73 m)
145 lb (66 kg)
ECAC
WWHL Team
Harvard Crimson
Minnesota Whitecaps
Born

Bridgeport, Connecticut
March 13, 1982,
Pro Career
1999 – present
Julie Chu (born March 13, 1982 in Bridgeport, Connecticut) is an American Olympic ice hockey player who plays the position of forward on the United States women's ice hockey team.
Hockey career
Chu is the first Asian American woman to play for the U.S. Olympic ice hockey team and played in the 2002 and 2006 Winter Olympics. She won the Patty Kazmaier Award in 2007 for best female collegiate hockey player.
During her time at Harvard, Chu became the all-time leading scorer in NCAA history and was also the team captain.
World Championships
2005, 2008 & 2009 World Champion
2001, 2004, 2007 Silver Medallist
Chu was the leading scorer at the 2009 IIHF World Women Championships tournament with ten points (five goals, five assists).[1]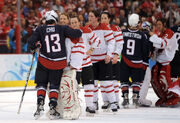 Professional hockey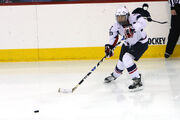 From 2007 to 2010, Chu played forward for the professional hockey Minnesota Whitecaps of the WWHL and won the 2010 Clarkson Cup. In 2010-11, she joined the Montreal Stars and claimed her second consecutive Clarkson Cup, becoming the first player to win the Clarkson Cup with two different teams.
Accomplishments & Notes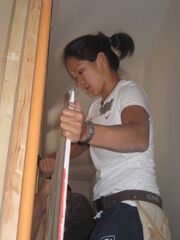 2010 Clarkson Cup Tournament Most Valuable Player
2007-08 Assistant coach of the University of Minnesota-Duluth women's ice hockey team, which won its fourth NCAA national championship that season. At the end of the 2007-08 season, Chu stepped down to concentrate on the US National Team program and prepare for the 2010 Winter Olympics in Vancouver.
2007 Patty Kazmaier Award winner (equivalent to the Heisman Trophy for NCAA women's ice hockey)[2]
2007 Bob Allen Women's Player of the Year Award - Awarded by USA Hockey
2006-07 ECAC Coaches Preseason All-League Selection
2006-07 ECAC Media Preseason All-League Selection[3]
Four-time All American at Harvard
Four-time finalist for Patty Kazmaier Award
All-time NCAA scoring leader (284 points in four seasons)
All-time NCAA assist leader (197 points in four seasons)
Three-time All American
Three-time NCAA Frozen Four finalist
Four-time USA Hockey Girls national champion (Connecticut Polar Bears)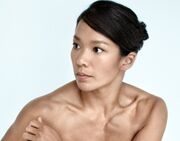 Media/National Publicity Biography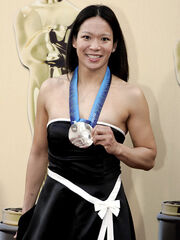 Off The Podium.com Torino 2006 Screensaver
February 13, 2006

People Magazine

February 2006

Glamour Magazine

US Anti-Doping Agency 2006 Campaign
October 2011: ESPN Body Issue[4]
Career statistics
 
 
Regular season
 
Season
Team
League
GP
G
A
Pts
1999
US Under -22 Team
Nat-Tm
3
0
0
0
2000
US Under-22 Team
Nat-Tm
3
0
0
0
2000
US Four Nations Cup Team
Nat-Tm
4
2
1
3
2000-01
US Women's National Team
Nat-Tm
33
17
18
35
2001
US World Championship Team
Nat-Tm
5
1
7
8
2000-01
US Visa Skate to Salt Lake Team
Nat-Tm
29
11
18
29
2002
US Under -22 Team
Nat-Tm
3
0
2
2
2002
United States Olympic Team - Salt Lake City
Nat-Tm
5
2
2
4

2002–03

Harvard University Crimson

NCAA
34
42
51
93
2003
US Four Nations Team
Nat-Tm
4
0
1
1
2003
US Under -22 Team
Nat-Tm
3
0
1
1

2003–04

Harvard Crimson women's ice hockey
NCAA
32
15
41
56
2004
US Four Nations Team
Nat-Tm
4
0
2
2
2004
US World Championship Team
Nat-Tm
4
1
1
2

2004–05

Harvard Crimson women's ice hockey
NCAA
33
13
56
69
2005
US Four Nations Team
Nat-Tm
4
0
0
0
2005
US World Championship Team
Nat-Tm
5
2
4
6
2005-06
US Hilton Family Skate Team to 2006
Nat-Tm
13
2
5
7
2006
US Four Nations Team
Nat-Tm
4
0
1
1
2006
United States Olympic Team - Torino
Nat-Tm
5
0
5
5

2004–05

Harvard Crimson
NCAA
30
18
48
66
2007
US Four Nations Team
Nat-Tm
4
0
1
1
2007
US World Championship Team
Nat-Tm
5
0
3
3
2007-08
Minnesota Whitecaps
WWHL
6
3
4
7
2008
US World Championship Team
Nat-Tm
5
0
7
7
2008-09
Minnesota Whitecaps
WWHL
9
2
6
8
NCAA totals
129
88
196
284
WWHL totals
15
5
10
15
Team USA totals
145
38
79
117
References