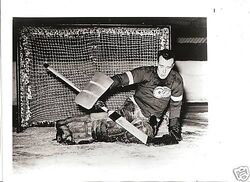 Johnny Mowers (October 29, 1916 - December 7, 1995) was an ice hockey goaltender who played for the Detroit Red Wings. Born in Niagara Falls, Ontario, Canada, Mowers backstopped the Red Wings to the Stanley Cup in 1943, shutting out the Boston Bruins twice in the four-game series.
Mowers started out playing junior hockey in Niagara Falls and then played senior with the Niagara Falls Cataracts from 1935-40.
He was signed by the Detroit Red Wings in 1939. After a season in the minors, he joined the NHL team in 1940-41.
In 1942-43, Mowers won the Vezina Trophy and the Wings won the Stanley Cup.
After this season Mowers enlisted in the Royal Canadian Air Force. He spent two years in the military and then coached the Wembley Lions in Great Britain in 1945-46.
The next season, he rejoined the Red Wings but was only able to play 7 games. Back troubles forced him to retire.
Gallery
External Links