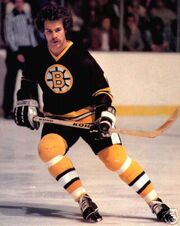 John Wensink (born April 1, 1953 in Cornwall, Ontario) is a retired professional ice hockey player. He played in the National Hockey League for the St. Louis Blues, Boston Bruins, Quebec Nordiques, Colorado Rockies, and New Jersey Devils.
He played junior hockey for the Cornwall Royals in the Quebec Major Junior Hockey League from 1970-73, winning the Memorial Cup in 1972. He was drafted 104th overall by the St. Louis Blues in the 1973 NHL Amateur Draft.
Wensink saw little action with the Blues, and spent most of his time for three seasons in the minor pros. He signed in 1976 as a free agent with the Boston Bruins. He spent three seasons as regular with the NHL team.
Wensink is best remembered for his time with the Boston Bruins, where he teamed with Terry O'Reilly and Stan Jonathan as the team's enforcers. In one of the most infamous moments in National Hockey League history, on December 1, 1977 Wensink, after just pounding a Minnesota North Star player, approached the North Star bench and motioned with his hands, challenging the entire Minnesota team. He didn't have any takers, though.
He was claimed by the Quebec Nordiques on waivers in 1980. He played with the Colorado Rockies in 1981-82 and the New Jersey Devils in 1982-83.
Wensink played for Nijmegen Tigers in the Dutch Eredivisie in 1983–84. In 1989 he played for the Netherlands national ice hockey team in the 1989 World Ice Hockey Championships, Pool C.
In his NHL career. Wensink played in 403 games and scored 70 goals and 68 assists. He also had 840 penalty minutes.
External Links