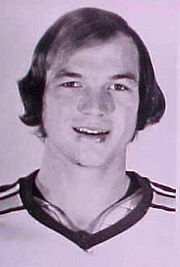 John Rogers was born April 10, 1953 in Paradise Hills, Saskatchewan. The 2nd choice, 25th overall of the Minnesota North Stars in the 1973 NHL Entry Draft, Rogers was a member of the Alberta Junior Hockey League's Edmonton Maple Leafs in 1969-70 before joining the Weyburn Red Wings for the 1970 Memorial Cup tournament.
In 1970-71, Rogers was a member the Edmonton Oil Kings of the Western Hockey League where he spent three seasons, leading them to the 1971 Memorial Cup tournament before the Edmonton Oilers of the World Hockey Association selected him in the 1973 WHA Amateur Draft.
Although he spent the majority of the 1973-74 season with the American Hockey League's New Haven Nighthawks, Rogers made his NHL debut with Minnesota during the 1973-74 season, playing in ten games and scoring two goals and adding four assists for six points.
Rogers played in only four games with Minnesota during the 1974-75 season, while spending better part of the year in New Haven. In two seasons with Minnesota, Rogers was unable to assure himself a spot on the North Stars roster and joined the WHA and the team that drafted him in the 1973 WHA Amateur Draft, the Edmonton Oilers.
The 1975-76 season saw John Rogers play in 44 games with the Oilers, and six games with the Western Hockey League's Spokane Flyers before retiring from the game at the end of the season.
Throughout his NHL career, John Rogers played in 14 games, scoring two goals while adding four assists for six career points.
Community content is available under
CC-BY-SA
unless otherwise noted.