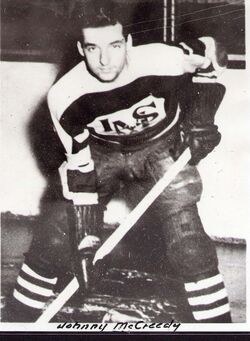 John McCreedy (born March 23, 1917 in Winnipeg, Manitoba - December 7, 1979) was a professional ice hockey player who played 64 games in the National Hockey League. He played with the Toronto Maple Leafs. He would win two Stanley Cups with the Leafs in 1942 and 1945.
He had an incredible career as an amateur. McCreedy played junior for the Winnipeg Monarchs in 1935-36 and 1936-37, winning the Memorial Cup in 1937. He then joined the senior Trail Smoke Eaters, winning the Allan Cup in 1938. As if that were not enough, the following season he played for the Smoke Eaters again as they won the 1939 World Championship. And he kept on going, winning the Allan Cup again in 1940 with the Kirkland Lake Blue Devils. Yet one more fantastic season as he played for the Sydney Millionaires as they lost the 1940-41 Allan Cup Final to the Regina Rangers despite leading the best-of-five series 2 wins and 1 tie to no wins.
The Toronto Maple Leafs signed him in 1941. In the 1942 Stanley Cup Finals the Leafs with McCreedy amazingly accomplished a similar feat to what the Regina Rangers had done the previous year - win the best-of-seven series after being behind 3 wins to none. It was a measure of revenge for McCreedy.
In six straight seasons McCreedy had won the Memorial Cup, Allan Cup (twice), World Championship, lost the Allan Cup final, and won the Stanley Cup!
For the next two seasons (during World War II), McCreedy was in the military and played for some RCAF teams. He returned to the Leafs in 1944-45 and, incredibly, won yet another Stanley Cup!
In 64 NHL regular season games, McCreedy scored 17 goals and 12 assists. In the playoffs he played in 21 games while scoring 4 goals and 3 assists.
He retired in 1945.
Awards & Achievements
Edit
References
Edit
Community content is available under
CC-BY-SA
unless otherwise noted.