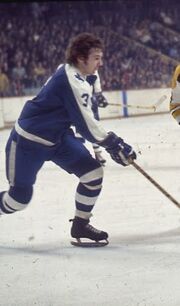 John Grisdale (born August 23, 1948 in Geraldton, Ontario) is a retired professional ice hockey player who played 250 games in the National Hockey League. He played for the Toronto Maple Leafs and Vancouver Canucks.
Grisdale playe for the Michigan Tech Huskies from 1967-71. After graduation, he was signed to a minor league tryout contract by the Toronto Maple Leafs. He played for the Tulsa Oilers for a time.
Many player jumps to the WHA in 1972 gave him a chance with the Leafs. In 49 games in 1972-73 he had a +/- of -22. He was traded to the Vancouver Canucks in 1974.
Grisdale was a regular with the Canucks until his retirement in 1979.
He is currently the commissioner of the BCHL, and resides in the city of Coquitlam.
External links
[
]