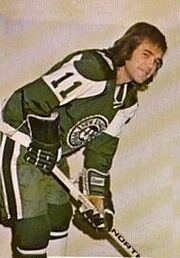 John French (born August 25, 1950) is a Canadian former professional ice hockey player who played 420 games in the World Hockey Association.
Born in Orillia, Ontario, he played with the New England Whalers, San Diego Mariners, and Indianapolis Racers.
He played junior hockey for the Toronto Marlboros from 1968 to 1970. The Montreal Canadiens chose him 52nd overall in the 1970 NHL Amateur Draft. French turned pro with the Montreal Voyageurs in 1970. The following year he was traded to the California Golden Seals with Lyle Carter for Randy Rota.
The Seals sent French down to the Baltimore Clippers for 1971-72. At the end of the season French jumped to the New England Whalers of the World Hockey Association (WHA). He played three seasons there, two more with the San Diego Mariners, and 1977-78 with the Indianapolis Racers. In 1978-79 he played for the Springfield Indians and retired.
In his WHA career, French scored 108 goals and 192 assists in 420 regular season games. In the WHA playoffs, he played in 44 games and scored 14 goals and 25 assists.
External links
[
]