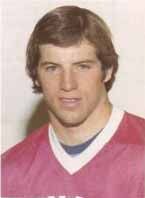 John Devaney (born April 10,1958 in Edmonton. Alberta) is a retired Canadian forward.
He played for the University of Alberta from 1976 to 1979. During that time the Golden Bears won the University Cup in 1977-78 and 1978-79. Devaney was the Bears' leading scorer and outstanding player in 1978-79.
In 1979-80 Devaney joined the Canadian Olympic team. He was the leading scorer on the team.
In 1980-81 Devaney joined EHC Visp in the Swiss Nationalliga A for one season. He then returned to Canada and was an assistant coach at the University of Alberta for two seasons and head coach of the Junior Fort Saskatchewan Traders in 1986-87.
In 1987 Devaney retired form full-time involvement in hockey but still works in the sport.
Community content is available under
CC-BY-SA
unless otherwise noted.