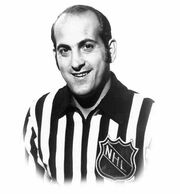 John David D'Amico (September 21, 1937 - May 29, 2005) was a National Hockey League (NHL) linesman and later supervisor of officials.
A native of Toronto, D'Amico's NHL career started as a referee on October 12, 1964, when he was 27 years old. He refereed only 19 games before becoming a linesman.
At the time of his retirement after the 1987 season, D'Amico was the last on-ice official active during the Original Six era. D'Amico's career included 1,689 regular season games and 247 Stanley Cup playoff games.
After retirement, he became a supervisor of officials for the NHL, a position he held until his death at age 67 after a long battle with leukemia and bone cancer.
D'Amico was inducted into the Hockey Hall of Fame in 1993.
He was renowned during his career for his immense physical strength. This was especially evident when he was required to break up fights on the ice.
Community content is available under
CC-BY-SA
unless otherwise noted.