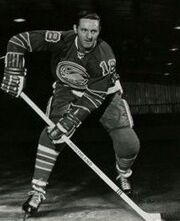 Joseph Boleslaw Szura (December 18, 1938 – October 13, 2006) was a Canadian professional ice hockey forward who played 90 games in the National Hockey League for the California Golden Seals. He was born in Fort William, Ontario. He would also play 115 games in the World Hockey Association for the Los Angeles Sharks and Houston Aeros.
He played junior hockey for the Fort William Canadiens (a Montreal Canadiens farm team) from 1956-59. Turning pro in 1959, he was brought up to the Montreal Royals. He played in the Canadiens' organization until 1967, including 5 seasons with the Cleveland Barons.
The 1967 NHL Expansion gave him, as it did so many players, a shot at the NHL. He was selected by the Oakland Seals in the 1967 NHL Expansion Draft and played 20 games with them in the 1967-68 season. Szura played a full season in 1968-69 but only got 9 goals and 12 assists. The next season saw him back in the minors.
Szura junped to the Los Angeles Sharks of the World Hockey Association in 1972-73 and then to the Houston Aeros in 1973-74 when they won the Avco World Trophy. But he lost his roster spot the next season and after playing a few games for the Cape Codders he retired in 1975.
In the NHL Szura played 90 games, scoring 10 goals and 15 assists. He played 115 games in the WHA, scoring 21 goals and 39 assists.
External Links
[
]